One of my goals for this month is to read 10 books from my physical TBR and so far I have read 6 books! 6!! These books have mostly been on my shelf for over a year, up to 6 years, and finally I'm getting through them. On top of that general accomplishment, I've also just loved all the books I've read, giving each 4 or 5 out of 5 stars. 2017 is shaping up to be a good year for me! Without further ado, check out my first 6 books of the year under the break!
The First Book: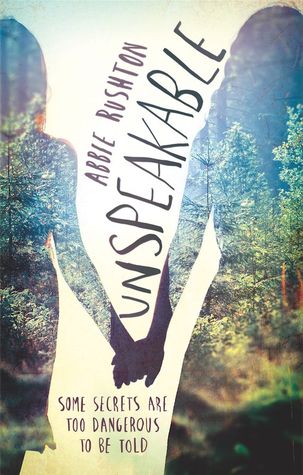 Unspeakable by Abbie Rushton
4 stars!
My first book of 2017 set me off to a great start for the year, in my opinion. Unspeakable is the story of a teenage girl in England who has stopped speaking after some event in her past. She is afraid that if she says anything at all, she will share something she wants to keep hidden. Just not talking has been working for her until a new girl transfers in. This new girl is interesting, she wants to be friends with Megan, and she makes Megan want to speak. And she has her own secret.
I loved the
depth of secrets
in this book. Told from Megan's point of view, the reader doesn't know a lot of what's going on and just as she won't speak of her secret to others, she doesn't even think it so the reader is kept in the dark as well.
I wanted to know what would be revealed and uncover the layers of secrets, so I kept reading. Overall this story drew me in and kept me curious, so I gave it 4 stars.
A few final notes on content, this book is YA (which I've honestly not always enjoyed) and I picked it up because I found it in a LGBT book shop in London (Gay's the Word – do recommend). I like the portrayal of discovery, but it's also not made into the central theme of the novel so it just gave some depth to the relationships while focusing on the mystery of Megan's secret. The fact that the main character is mute is also handled well by the author and the characters (for the most part) and it didn't feel like a plot device but a part of the character's identity.
The Second Book:
A Thousand Cuts by Simon Lelic
4 stars!
From secrets kept in YA to uncovering secrets in what could be a straightforward murder/suicide, my second book of the year was a wholly different experience. Simon Lelic wrote about police inspector Lucia May investigating the murder/suicide of a school teacher, who walked into an auditorium full of kids and opened fire, killing 3 students, 1 other teacher, and himself. Trying to find the motive for this action, May discovers she is the only one who seems to want to find that motive as she encounters overt sexism and bullying throughout her investigation.
I had a hard time getting into this novel, mostly because it alternates between the development of the novel's story and the recordings of witness statements from students, teachers, parents, and others. The statements are written with only the person being questioned speaking, there is no text from the questioning officer or anyone else. It's a bit jarring and hard to understand at first, so getting into the novel took me some time. This book has been on my shelf for years, though, so I felt I had some responsibility to my past self to give it more of a chance and I'm glad I did.
This book is powerful, it made me uncomfortable about reality and the topic of bullying is handled strongly throughout – bullying in schools, in the police force, and in politics as those pieces are brought into the story. I didn't enjoy everything, but I deeply appreciated the whole work – 4 stars.
Simon Lelic is a UK journalist, and that experience read well in his debut novel, giving powerful impact to the stories of the characters. *This novel was originally titled Rupture in the UK.*
The Third Book:
The Girl with No Shadow by Joanne Harris
5 stars!!
My first sequel of the year, The Girl with No Shadow is the sequel to Chocolat, a novel I read about 10 years ago and really loved (also loved the movie with Juliette Binoche and Johnny Depp). I may have forgotten a lot of the story, but I loved the sequel as much as I remember loving the first. Our main character, Vianne, is a single mother in France trying to escape the magic that haunts her. But a new character comes onto the scene with her own agendas and brings the magic back into Vianne's life.
I love the magical aspects of this novel, how the characters know strangers and influence the desires of those around them to sell chocolate and make people happy. Over the course of the story, though, I really grew to love and hate the characters equally. The novel alternates POV between Vianne, her preteen daughter Anouk, and the new character Zozie. The alternating ignorance, malice, and general disregard for life within all three characters frustrated me more and more as the novel developed. But the story was so intriguing, and the characters so interesting, I wanted to see the characters through the end.
I wanted to see some characters succeed, others fail, and overall see how the manipulations and magic came together to reach a satisfying conclusion. And the conclusion was definitely satisfying. Did I love the end? No, I wanted something different to happen, but I'm satisfied and the craft of the whole novel made me want to not only reread Chocolat, but to immediately reread this story as well. 5 stars from me!
*This book was originally titled The Lollipop Shoes in its original UK publication. *
The Fourth Book:
The Word for World is Forest by Ursula K Le Guin
4 stars!
Finally, I got to read another Ursula K Le Guin book! I first discovered her writing in high school when I read The Left Hand of Darkness for a book report and I loved the strangeness of the alien worlds she created and how real it felt despite all the science fiction. This novel felt especially apropos as it details the human race journeying out into the wilds of space and colonizing planets for natural resources that no longer exist on Earth. And the native species of humans fighting back.
This book shows a couple of alternate perspectives and really gives the reader an understanding of the conflict between the indigenous people and the invading Earthlings
(Americans, how appropriate)
. Of the three perspectives, I loathed one
(and I'm sure the reader is supposed to)
, I greatly empathized with another, and the final and most prominent POV was just altogether interesting. This was a short read, but totally worth it and definitely lives up to the greatness I found in that first book from high school.
The alien planets are vivid and the problems have no simple solution but it's realistic and kind of inspiring, despite the dark notes. 4 Stars.
This book was also the Hugo Award Winner for Best Novella in 1973.
The Fifth Book:
Girl Online by Zoe Sugg
4 stars!
Okay, this book was just fluff. Purely fun read about insta-love and hardly any real conflict. I bought it when it was first released because I was in a phase where I just really loved Zoella. Then the whole ghost-writer drama came out and I let it sit on the shelf for a while longer. When I finally picked it up not even 2 weeks into the year, I was glad I did. No, this is not a great book. It's probably not even really a good book by a lot of metrics, but I enjoyed it. I was smiling through almost the whole 300+ pages of fluffy nonsense. When Penny, our main character, flew off to New York, I knew before she ever landed that the New York City in this novel would be some magical love world created just for Penny to meet her true love, as teenagers do.
But yes, this book is ridiculous, ludicrous, pure escapist nonsense and for that purpose it is wonderful. It has a bit of a slow start but picks up around a third of the way through. The structure is basic, the characters are pretty flat, the only real "conflict" occurs in the last 30 pages and is resolved in the last 3.
But if you're not looking for depth (or you're looking for a present for the target demographic of girls age 9-14) go ahead and give it a shot. It made me smile and laugh out loud so it gets 4 stars from me.
The Rhetoric of Death by Judith Rock
5 stars!
I honestly don't know why I kept this book for so long, but I guess it was a great idea. The title intrigued me and I bought this book way back when from the Border's Bookstore's going out of business sale in 2010 for a steep discount. The Rhetoric of Death is about a Jesuit priest-in-training in 17th Century France investigating a murder while trying to help direct the college's annual ballet performance. Also, he is trying to hide his ties to Protestantism, which is unofficially punishable by death.
What?!
This is not the kind of book I would ever see myself enjoying, but I've kept it for about 6 years because the title sounds cool. I do not generally enjoy historical fiction, or religion, or murder mysteries. But I really loved this religious, historical murder mystery!
Charles du Luc is an interesting character and the writer, Judith Rock, has a true talent for bringing the setting to life. It felt like an accurate portrayal of the 17th century in France, not a romanticized imagination of it. This was a very interesting read overall and I got hooked really quickly so this book because my second 5 star book of the year!
Also, I mentioned the author's skill in bringing the time period to life and I did a bit more research into her as well. I discovered that Judith Rock actually got a PhD in Theology and Art, so she had a large academic background in the era and the people to inform her writing. She is also just an interesting person – she studied dance and spent a few years as a police officer before going back to the theater and writing books. Overall, she just sounds like a cool lady, so I like the book even more!
There you have it - my first Reading Wrap-Up of the year!
Have you read any of these books? Do your opinions differ from mine?
Do you think this post was way too long?
Comments and criticism is totally welcome. Let's discuss! \/ \/